POUND®
WHAT IS IT?
POUND® IS THE WORLD'S FIRST CARDIO JAM SESSION INSPIRED BY THE INFECTIOUS, ENERGIZING AND SWEAT-DRIPPING FUN OF PLAYING THE DRUMS.
Using Ripstix®, lightly weighted drumsticks engineered specifically for exercising, POUND® transforms drumming into an incredibly effective way of working out.
Instead of listening to music, you become the music in this exhilarating full-body workout that combines cardio, conditioning, and strength training with yoga and pilates-inspired movements.
Designed for all fitness levels, POUND® provides the perfect atmosphere for letting loose, getting energized, toning up and rockin' out! The workout is easily modifiable and the alternative vibe and welcoming philosophy appeals to men and women of all ages and abilities.
Fee: $3 per class. Try a class by paying for the class at the Welcome Center desk and bringing your receipt to the instructor, or punch cards are available for $15 or a $30 card can be purchased for $27 at the Y Welcome Center desk.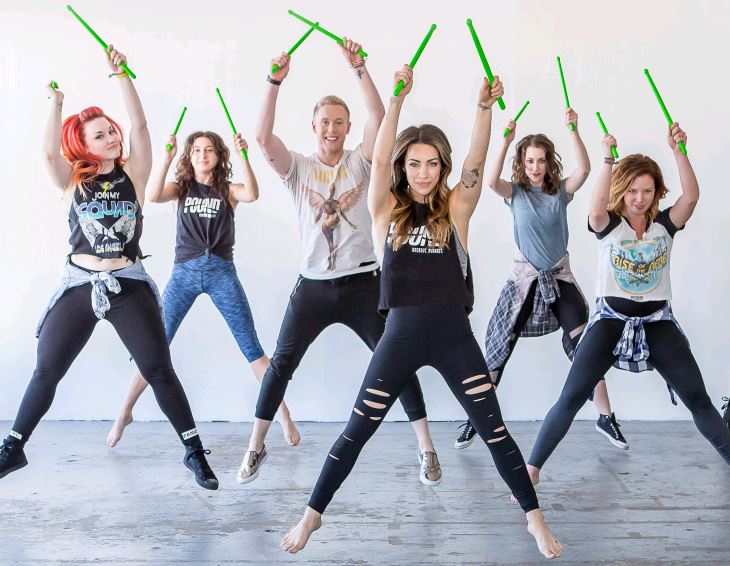 ---
JOIN OUR FACEBOOK GROUP:


FDL YMCA POUND GROUP
---
WHAT ARE THE BENEFITS OF POUND™?
Burn up to 900+ calories per hour, strengthen and sculpt infrequently used muscles, and drum your way to a leaner, slimmer physique – all while rocking out to your favorite music!
Drastically improve your rhythm, timing, coordination, speed, agility, endurance, and musicality.
Cinch the waistline, slim the thighs, and strengthen connective tissue and infrastructural muscles with the combination of stability and cardio.
Numerous studies have proven the powerful brain boosting, stress-relieving effects of drumming. The rhythm of drumming permeates the entire brain to improve focus, increase higher-level thinking and decision-making skills, boost the immune system, lower blood pressure, decrease chronic pain, anxiety, and fatigue.
---
---
WHAT DOES A TYPICAL CLASS LOOK LIKE?
Instead of counting reps or keeping track of the clock, POUND® strategically distracts you from the high-intensity and duration of your workout, and shifts your focus to rhythm and volume. This strategic distraction is responsible for the "addictiveness" of POUND® - the reason you can't stay away!
Each 2-4 minute song is carefully calibrated with interval peaks and extended fat burning sequences, providing you with the best workout in the shortest span of time. After you're done rocking out in a 45-minute POUND class, you'll have completed up to 15,000 reps, performed over 30 extended interval peaks, and zipped through more than 70 techniques without even realizing it.
---
HOW DO I ATTEND A PAID POUND® CLASSES?
To attend a POUND® class, purchase a punch card at the WELCOME CENTER DESK. Cards will be punched at the beginning of each class by the instructor. Cash payments are accepted at the WELCOME CENTER DESK only. A receipt will be given to you for cash payments. Bring cash receipt or punch card to instructor at the beginning of class to attend a POUND® class.
Limited space available for each POUND® class!
---
WHAT IS THE COST FOR POUND® CLASSES?
Classes are $3 each; Punch cards are available for purchase at the Y Welcome Center desk.